MV 60H P.A. Wireless Microphone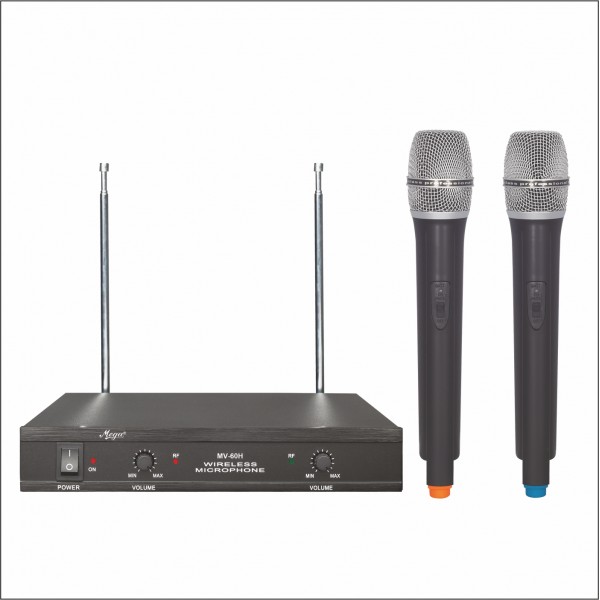 MV-60H


1. Elegant and affordable Dual channel VHF wireless microphone.
2. VHF 174-270 Mhz Band to avert interfering frequency.
3. MH-60H features a 2 VHF high band Hand Microphone.
4.MV-60L features 1 Tie- clip Microphone with a VHP high band body pack transmitter and 1 VHF high band Hand Microphone.
5. Multilevel high frequency and mid Frequency narrowband filter, so as to dispel any possible.
6.It has quartz crystal oscillating circuit which makes the frequency steady.
7. Transmitter has an ON/OFf switch and a LED for ON indication.
8. power On/Off switch and output volume control on the front panel and 1/4" (6.3mm) phone jack for audio output on the rear panel of the reciever.
9. With audio compressing expanding technology, the machine can lower noises and increase tge dynamic range. It can also lower reecho.
10.Longest distance in open : 60 Feet.
11. It is suitable for stags, Ballrooms, Auditoria,classroom, and families.


Specification
Model
MV - 60H / MV - 60L
Audio Frequency Response
42-20000 Hz
Power Requirement
AC 220 240 V for AC Adapter / DC 12~18 V
Frequency Stability
±0.005 %
Modulation Mode
VHF Frequency Modulated
Maximum Deviation Range
±30 KHz
S/N Range
>85dB
Audio Dynamic Range
>= 80 dB
T.H.D
<=0.2%
Operating Temperature
-10C~50C