DENSON 250ue USB/SD Card Player & Recorder with FM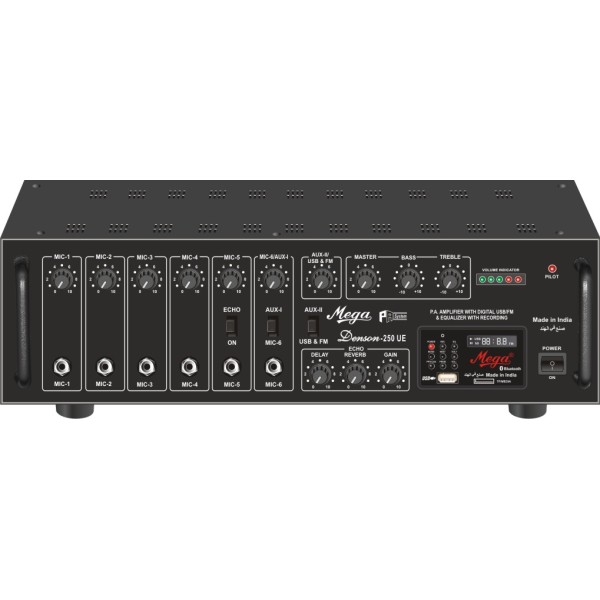 Multiple inputs for 6 Mikes / 2 Aux source.
Preamplifier Out for connecting to a booster amplifier and for recording the
programme.
Passive bass and treble control.
In-built Bluetooth facility.
LED array for output level.
External speaker connections are provided for 4, 8, 16 Ohms and 70V, 100V line.
Echo facility inbuilt.
Specification
Model
DENSON - 250 UE
Weight
17.700 Kg.
Frequency Response
50-15000 Hz ± 3dB
Power Requirements
AC 220-240 V 50/60 Hz DC 24 V (2 X 12 V CAR BATTERY)
Power Output
250 W (Max.)
Input Channels
6 Mikes 2 Aux. 1 USB Port 1 SD / MMC Card Reader
Tone Control
Bass : ±10dB at 100Hz, Treble : ±10dB at 10Khz
Pre-amp, Output
200mV / 600 Ohms
Line Output
-----------
Signal To Noise Ratio
60dB
Output Tags For
4-8-16 Ohms
Speaker Matching
70V-100V Line