Denson1600ue High power mixer Amplifier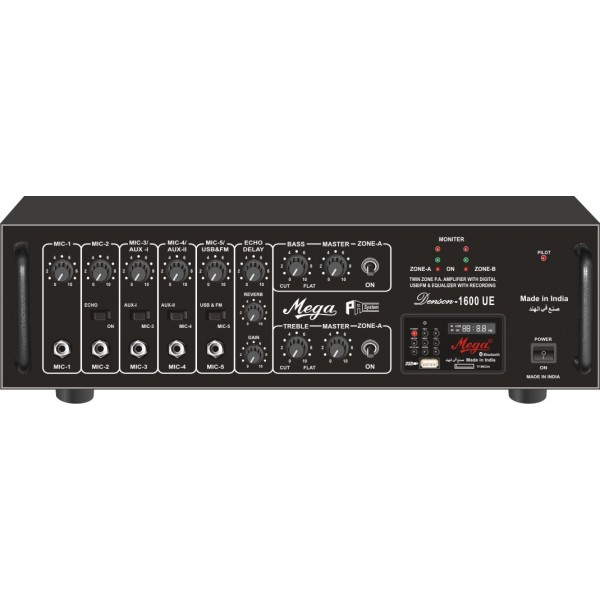 Multiple inputs for 6 Mics / 2 Aux source.
In-built Bluetooth facility.
It permits connecting 100 V (LMT) type speakers to one zone and low impedance
type speakers to other zone without causing over loading and over heating. Both
the zones can also be connected with 100 V Line type speakers or low impedance
type speakers simultaneously.
Cut type bass and treble control.
Zone on/off facility. Output levels of each zone can be set independently to desired
levels and the zones can be switched on/off without disturbing the volume.
Echo facility inbuilt.
Specification
Model
DENSON - 1600 UE
Weight
15.800 Kg.
Frequency Response
65-15000 Hz ± 3dB
Power Requirements
AC 220-240 V 50/60 Hz DC 12 V (1 X 12 V CAR BATTERY)
Power Output
80 W + 80 W (Max.)
Input Channels
6 Mikes 2Aux 1 USB Port 1 SD / MMC Card Reader
Tone Control
BASS : -10dB at 100Hz , TREBLE : -10dB at 10 Khz
Pre-amp, Output
200mV/600 Ohms
Line Output
----------
Signal To Noise Ratio
60 dB
Output Tags For
4 & 8 Ohms each Zone
Speaker Matching
70V-100V each Zone