Mega MP-99U+ With Bluetooth,USB,Recording , Echo And UHF Cordless Mike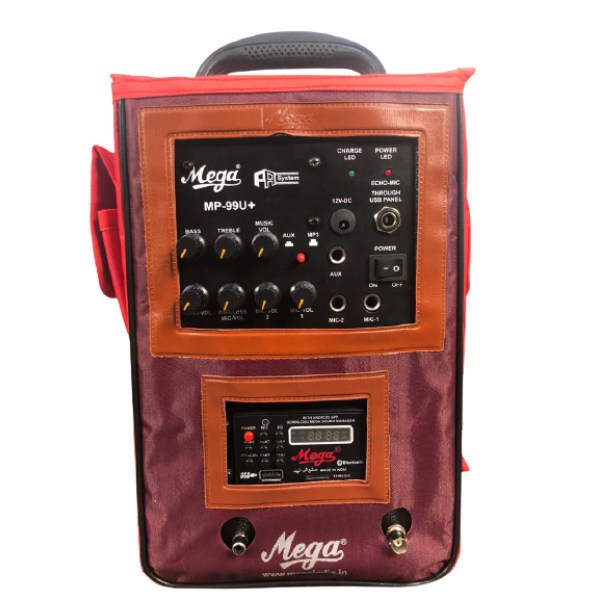 Compact System having following facilities
· with In Built full range very high quality speaker of 15 cm, 4 Ohms and 40 watts
· High quality metallic iron body for strength with colourful bag for providing convenience to users.
· With Smart Echo Facility having separate Bass control for drum like sound frequencies, which are known as low frequencies.
· With Smart Echo Facility having separate Treble control for high and mid sound frequencies.
· With Bluetooth Facility, for enjoying songs from your Bluetooth Enabled Mobiles/devices
· With 3 mikes inputs , with each mike having separate volume control
· With Aux facility, for playing gitars, piano and external audio devices, if needed.
With One UHF (ULTRA HIGH FREQUENCY) hand Cordless Microphone.

With 1 METAL XLR Mike having 6 meter PURE COPPER MIKE LEAD included.

WITH BUILT IN 12V 7.2 Ah RECHARGEABLE BATTERY WITH BATTERY CHARGING FACILITY.

IDEAL FOR RUNNING up to 9-12 HOURS ON INBUILT RECHARGEABLE BATTERY
· AC LEAD IS ALSO PROVIDED FOR RUNNING THE SYSTEM ON ELECTRICITY as well as for charging the inbuilt battery of the system.
With USB Player and Equalizer.

With USB VOICE RECORDING FACILITY, RECORDS THE EVENTS IN PAN DRIVE

With FM facility

With SD CARD PLAYER

With SD CARD VOICE RECORDING FACILITY, RECORDS THE EVENTS IN SD CARDS

LED INDICATORS FOR POWER AND BATTERY CHARGING.

Antennae provided at the back for high range connectivity

Also can be operated on external 12v DC battery

SUITABLE FOR THE GATHERING OF UPTO 40-50 PERSONS.

USE FOR INDOOR AND OUT DOOR PURPOSES, SMALL GATHERING, YOGA CLASSES, SMALL EVENTS, USE FOR ELECTION PERPOSES, For Kirtan Purposes and other religious activities